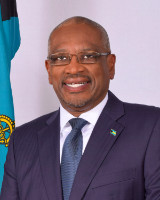 Remarks Hon. Dr. Hubert Minnis Prime Minister of the Commonwealth of The Bahamas Good News Seventh-Day Adventist Church Great Britain Street, Flamingo Gardens. Saturday, 10 February 2018 10:00 A.M:
Members of the clergy, congregants
Good morning,
It is an honor to be with you this morning, and to help welcome Dr. Carlton Byrd to the Bahamas.
Dr. Byrd is well-known for his various ministries and as the host of Breath of Life...