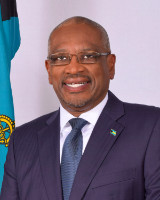 Prime Minister Dr. the Hon. Hubert Minnis visited communities around the Family Islands to discuss with residents the 2018/19 National Budget and how it would impact their lives, and the Value Added Tax increase to 12 percent.
Town Hall Meetings were held in church halls and community centres where residents turned up to hear about what provisions are in the Budget and what they should be taking advantage of.
The Prime Minister started his week-long tour on Monday, June 25 and ended on Saturday, June 30, visiting Andros South, Central and North, then onto Exuma, Cat Island, Rum Cay, San Salvador and North and South Long Island...