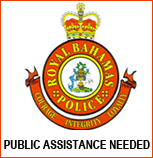 Police seek publics help in solving armed robbery:
Police are asking members of the public, to come forth with any information they may have in solving an armed robbery, which occurred Tuesday, 24th July, 2018...
Attempted armed robbery, 1 suspect in custody, illegal firearm recovered:
Shortly before 7:00pm, Tuesday, 24th July, 2018 a man armed with a firearm, entered a convenience store on Miami Street, held employees at bay and demanded cash. A struggle ensued between employees and the armed man...