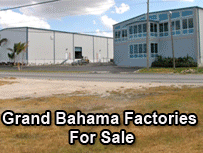 Proven to withstand a 152 mph hurricane!
Located on Queen's Highway in TAX FREE Freeport, Grand Bahama Island, a short 28-minute flight from South Florida (Miami/Fort Lauderdale).
Warehouses FOR SALE by Owner featuring: Two like new commercial buildings completed in 2008. Former site of a window manufacturer and a rubber extrusion manufacturer; Both structures are built to Miami-Dade code enforcement standards for hurricane safe facilities. Built five feet above the historic flood plain, the buildings sit on four acres of land ...