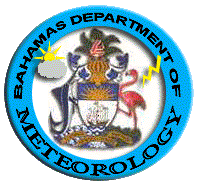 THE BAHAMAS DEPARTMENT OF METEOROLOGY HAS ISSUED A SEVERE THUNDERSTORM WARNING FROM 7:30AM UNTIL 9:30AM EDT SATURDAY 3RD NOVEMBER 2018.
A SEVERE THUNDERSTORM WARNING IS NOW IN EFFECT FOR ABACO AND ITS ADJACENT WATERS. AT 7:30 AM OBSERVATION AND SATELLITE IMAGERY SHOWED A LINE OF THUNDERSTORMS MOVING ACROSS ABACO.

SOME OF THESE THUNDERSTORMS WILL BE SEVERE AT TIMES CAUSING STRONG GUSTY WINDS, DANGEROUS LIGHTNING, HEAVY DOWNPOURS, HAIL AND POSSIBLE WATERSPOUT OR TORNADIC ACTIVITY...