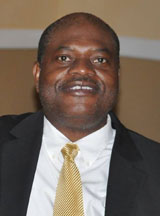 Prime Minister Christie announces 10th May 2017 as General Election date
Commissioner of Police Ellison Greenslade, as Provost Marshal, read the Proclamation dissolving the current Parliament, and the Proclamation of the convening of a new Parliament, on the steps of the House of Assembly in Rawson Square, April 11, 2017.
Shortly thereafter, Bahamas Prime Minister the Rt. Hon. Perry G. Christie read the following nationally aired statement on the date of the next General Elections...